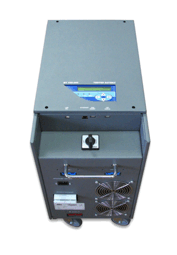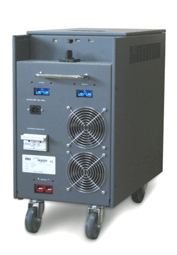 Tester of batteries is assigned for execution of prophylactic capacity tests of batteries by discharging. It is possible to test any type of batterys by the tester.



Base characteristics of device
Control unit with LCD display controlled with microprocessor
Monitoring up to 128 battery cells
Programmable process of discharge
Fully programmable process of measurement at discharge with the autonomous operation without PC
Possibility of upgrade of firmware - completing new characteristics
Galvanic isolated user`s interface
Monitoring
Monitoring of various cells - 2, 4, 6, 8, 10 and 12 V
Max. 128 cells with voltage 2, 4, 6 V or 64 cells with voltage 8, 10, 12 V
Voltage of the monitored battery set
Voltage of single battery cells
Balance of voltage of the single cells of battery set
Check up of the discharge current of battery during back-up
Monitoring of the ambient temperature of battery
Completion of the battery discharge according to time, battery voltage, number of cells with min. voltage, ...
Display of capacity of the battery after the completion of discharge of the battery
Record of the operational reports in memory
Setting of an interval of measurement of cells voltage within 1 - 600 min.
Storage of the discharging characteristics directly in the device
Consecutive display of all measured and configured data on LCD display
Other features
Basic parameters
Input
voltage of tested battery
10 - 400 V DC
input current
10 ÷ 260 V DC - 5 ÷ 100 A
260 ÷ 400 V DC - 5 ÷ 50 A
input protection
internal fuse 125 A
powering
90 ÷ 264 V AC - 40 ÷ 280 V DC
output
connection to load
2 x 14 kW
max. range of voltage to load
0 ÷ 400 V DC
max. current to load
2 x 40 A
protection of the output of module BT
elektronically 100 A
protection of battery against the deep discharge
battery disconnecter
shunt for measuring of the battery current
0 ÷ 150 A
Dimensions W x D x H
module BT 100-400
300 x 540 x 570 mm
load BTZ 14kVA
300 x 480 x 710 mm
Tester BR 300-12 for capacity test of batteries


Device designed for testing and measurement of batteries` capacity by discharging. It is possible to test any type of battery. Max. nominal voltage of tested battery is 12V.
Basic characteristics
unique product
possibility to configure various values of discharging currents
max. discharging current up to 300 A
possibility to test various types of batteries
safety disconnection of battery
overheat protection
small dimensions
low weight
Technical characteristics
Electrical parameters
supply voltage of control
230V / 50Hz
max. input current
0,5 A
max. battery voltage 
12 V DC
max. battery current
3 x 100 A
Mechanical parameters
dimensions W x H x D
405 x 226 x 266 mm
weight
5 kg
operating temperature
0 - 35°C
relative humidity
10 - 85 %