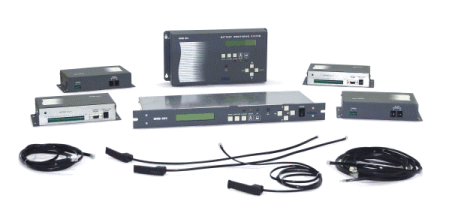 complex modular supervisory system of battery status
processor control unit
possibility to monitor max. 4 independent battery sets
max. number of monitored cells is 256 in 4 battery sets
LCD display with characters
fully programmable measuring process
galvanic isolation of measurement
communication via RS232/485/422 - simple connection of measuring modules also for longer distances
possibility to build into 19" cabinet eventually to place it on the wall
Monitoring system HB operation is suitable for applications where is required monitoring of battery operation.


The HB monitoring system monitor and signalise deep battery discharge in real time, eventually discharging of particular cells of battery sets, measured voltage on particular cells of battery sets, over discharging or overcharging battery current, battery temperature deviation from specified values and etc. Overrun of every of mentioned parameters could lead to battery set destruction, so it is needed to have immediate information about battery status.


The system si design into 19" rack high 2U and can be built into 19" cabinet or can be fixed on the wall in vertical position. Method of fixation has to be specified ba client in advance.


Battery monitoring system is fully autonomy working or can be directly battery-powered. So it is not necessary to provide power supply from back-up distribution mains, what enable to situate battery-monitoring system directly into accumulators` installation or storage room.
System scheme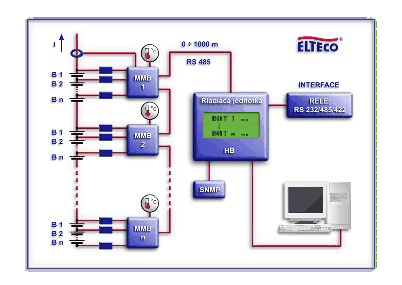 Technical parameters
Technical specification of the system
| | |
| --- | --- |
|            System maximal voltage |            0 ÷ 650 V DC |
|            Number of connected modules |            max. 16 modules |
|            Number of measured independent bat. sets |            max. 4 |
|            Number of measured cells |            max. 256 cells |
|            Number of inputs for temperature measuring |            max. 8 configuration |
|            Number of inputs for voltage measuring |            max. 4 configuration |
Technical specification of module
| | |
| --- | --- |
| Number of voltage inputs |            max. 16 |
| Battery voltage measuring range |            0 ÷ 16 V DC |
| Battery current measuring range |            max. ±950 A (according to probe type) |
Additional HB system options
Monitoring
Total battery set voltage
Particular cells voltage of battery sets
Measured voltage on particular cells of battery set
Charging battery current
Discharging battery current during back-up operation
Compare currents of battery sets
Battery eventually environment temperature
Possibility of battery sets with different number of cells monitoring
Module power supply from measured cells set or possibility of external power supply
Communication with user
Alarm report


acoustic (buzzer)
visual (LED diodes)
alarm dry contact relay

Communication via serial interface RS 232/485/422
Communication via standard net protocols using SNMP adapter
Control
Using keys on the system front panel
Remote operated via serial interface RS 232/ RS485/422
Software support
Support for OS Windows 9x, ME, 2000 or XP