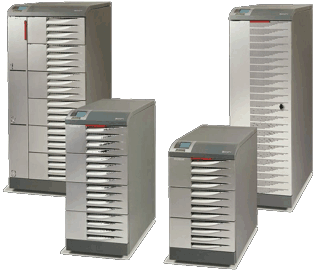 Uninterruptible Power Supplies (UPS) of MASTERYS series from 8kVA up to 10kVA are supplied with 1- and 3- phase input and 1- and 3- phase output.


Other parameters:
UPS use in the control unit a microprocessor of DSP type (Digital Signal Processing)
power factor correction on the input (PFC)
IGBT rectifier
modular conception
built-in electronic by-pass
intelligent charging batteries system
ECO MODE increase efficiency of the UPS
wide possibilities of communication, RS 232, RS 485, zero-potential relay contacts, SNMP
Data of important operating parameters (e.g. voltage, failures, back-up time, etc.) are screened on thedisplay located on the front panel.


If specially ordered, it is possible to provide aremote control panel. Also it is possible to order an insulation transformer for avoltaic separation of the load supply from the mains supply.


UPS can be also connected to an external battery module or external battery charger to prolong the back-up time.


Masterys Types
Type
Power
Back-up time*
Dimensions
W x H x D

Weight
UPS
[kVA]
[min]
[mm]
[kg]

MASTERYS BC

1/1, 3/1
8
0 - 95
444 x 795 x 800/1000/1400
75 - 430
1/1, 3/1, 3/3
10
0 - 65
444 x 795 x 800/1000/1400
80 - 435
3/1, 3/3
12
0 - 55
444 x 795 x 800/1000/1400
85 - 440
3/1, 3/3
15
0 - 65
444 x 795 x 800/1000/1400
195 - 520
3/1, 3/3
20
0 - 45
444 x 795 x 800/1000/1400
240 - 520
3/3
30
0 - 28
444 x 795 x 1000/1400
315 - 540
3/3
40
0 - 10
444 x 795 x 1400
415
Type
Power
Back-up time*
Dimensions
W x H x D
Weight
UPS
[kVA]
[min]
[mm]
[kg]

MASTERYS MC

3/1
10
0 - 74
444 x 795 x 800/1000/1400
90 - 515
3/1
15
0 - 65
444 x 795 x 800/1000/1400
95 - 520
3/1
20
0 - 45
444 x 795 x 800/1000/1400
105 - 520
3/3
60
0
444 x 795 x 1400
200
3/3
80
0
444 x 795 x 1400
210
3/3
100
0
700 x 845 x 1930
380
3/3
120
0
700 x 845 x 1930
380
Typ
Power
Back-up time*
Dimensions
W x H x D

Weight
UPS
[kVA]
[min]
[mm]
[kg]

MASTERYS IP

MASTERYS IP 3/1, 3/3
10
0 - 14
444 x 795 x 1400
202 - 330
MASTERYS IP 3/1, 3/3
15
0 - 11
444 x 795 x 1400
215 - 310
MASTERYS IP 3/1, 3/3
20
0 - 6
444 x 795 x 1400
255 - 350
MASTERYS IP 3/3
30
0 - 4
444 x 795 x 1400
305 - 400
MASTERYS IP 3/3
40
0
444 x 795 x 1400
340
Type
Power
Back-up time*
Dimensions
W x H x D
Weight
UPS
[kVA]
[min]
[mm]
[kg]

MASTERYS EB

MASTERYS EB 3/3
2x15
0 - 11
600 x 795 x 1400
220 - 410
MASTERYS EB 3/3
3x15
0
600 x 795 x 1400
260
MASTERYS EB 3/3
2x30
0 - 4
600 x 795 x 1400
250 - 440
MASTERYS EB 3/3
3x30
0
600 x 795 x 1400
300